Internasjonalisering
Målet er at mange elever skal få muligheter til å delta i internasjonale prosjekt. I møte med elever fra andre land vil de lære om andre kulturer, stifte vennskap med ungdom på egen alder og på denne måte bli bedre i fremmedspråk og mer attraktiv for fremtidens arbeidsliv.
Prosjektene kan være avdelingsvise eller på tvers av avdelingene.
Du kan delta i internasjonale prosjekter/kurs på følgende måter:
• Hospitering i skole eller bedrift i utlandet
• Språkreiser
• Samarbeidsprosjekt med skole eller bedrift der man samarbeider med andre elever. Som feks. CNC-Reloaded

Project number: 2020-1-CZ01-KA226-VET-094223
Project mission
Through collaboration with our partners, we want to:
-help our teachers and learners to acquire skills and competence to be ready to teach and learn online
-promote the professional development of teachers in the methodology of developing online lessons, on providing online teaching and learning in high quality
-help teachers in changing pedagogy used in online teaching
-acknowledge and bridge the gap between teachers and technology to ensure successful teaching
-support development and availability of open educational resources
-connect teachers and deploy digital devices and content
-support students in acquiring professional and soft skills, and in self-evaluating them
-prepare students for new ways of learning properly and thus increase students´motivation to study
-promote teamwork at the national and international level
-strengthen the use of web and digital tools for teaching and learning and for facilitating interactive information sharing and collaboration within the World Wide Web.
link to the project website: Online Schooling
Varighet: September 2021 til november 2027.
Det kan hospiteres og utføres jobbskygging ved utenlandsk skole eller bedrift for yrkresfaglærer og fellesfaglærere hvis tema er rettet mot yrkesfag. Etter avtale med egen avdelingsleder og Stig Mårstad.
Tredagers fagkurs, 2 reisedøgn totalt 5 dager. Støttebeløp på ca. €1350,-
Jobbskygging kan utføres ved utenlandsk skole eller bedrift, varighet 5 dager, 2 reisedøgn, 7 døgn totalt. Støttebeløp €1400,-
Invited expert, mulighet for å invitere "eksperter" fra utlandet til og holde todagerskurs på egen skole. Støttebeløp €1200,-
Skolen har noen plasser for elevutplassering på 2 uker som kan kombineres med jobbskygging av lærer.
Tre land og seks skoler diskuterer temaet elektrisk og hybrid kjøretøyteknologi, som omhandler funksjon, feilsøking og enkle reparasjoner på elektriske og hybride kjøretøy elektriske fremdriftssystemer. Prosjektet tar også for seg elektrisk sikkerhet når man arbeider med eller i nærheten av høyspenningssystemer i elektriske og hybride kjøretøy.
Vi har startet arbeidet med behovsanalyse, fakta-funn og idéutvikling som er nyttige for å lære om elektrisk og hybrid kjøretøyteknologi.
1. Hva slags undervisningsutstyr trenger vi og hva er det mulig å dele lokalt, regionalt og transnasjonalt?
2. Hva slags undervisningsmateriell trenger og hva er det mulig å dele lokalt, regionalt og transnasjonalt?
3. Hva slags teknisk etterutdanning for bilfaglærere er nødvendig og trenger vi nye pedagogiske ferdigheter for denne store tekniske endringen, og hva er det mulig å dele lokalt, regionalt og transnasjonalt?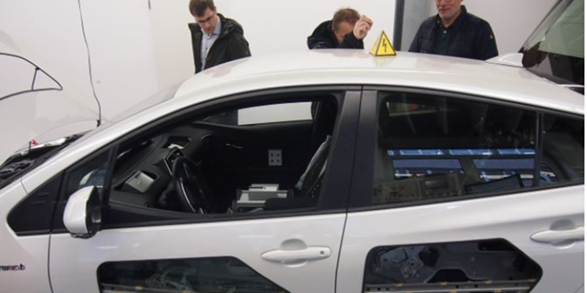 Partnere
Amledo & Co AB, Koordinator, patrick.arlemalm@amledo.com, Sverige
Uppsala Yrkesgymnasium, max.michael@skola.uppsala.se, Sverige
Erikslundsgymnasiet, par.winther@borlange.se, Sverige
Nyköping videregående skole, keijo.sipinen@larare.nykoping.se og jonas.axelsson@nykoping.se, Sverige
Kuressaare Ametikool, Margus.kivi@ametikool.ee,Estland
Byåsen videregående skole, Stig Mårstad, Norge
Bäckadalsgymnasiet, jan.borstell@jonkoping.se, Sverige
Vennligst gi beskjed hvis du ønsker å bidra og få resultater.
Startdato 31/12/2020, sluttdato 30/12/2022
Støttes av Erasmus+, prosjektnummer 2020-1-SE01-KA202-077795

Duration: 01.09.2019 – 31.08.2021
Registration no.: 2019-1-CZ01-KA202-061111
Website: https://stemka2.wordpress.com
Facebook project site
Partners:
Střední průmyslová škola chemická Pardubice – the main coordinator
Abidin Pak Pakmaya Anadolu Lisesi -TurkeyValga County Vocational Training Centre - EstoniaByåsen videregående skole - NorwayITT Michelangelo Buonarroti - ItalyKES COLLEGE - Cyprus
Objectives of the project include introducing innovative approaches to teaching by using cross-curricular links involving STEM subjects (Science, Technology, Engineering, Math), thereby contributing to improving the quality of vocational education at partner schools.
A significant contribution for teachers will be the knowledge and use of other and new teaching opportunities, the involvement of ICT in education, the implementation of new methodological approaches to teaching. Students should gain better learning outcomes and increase their motivation to study.
For the successful implementation of the project, four international workshops are planned for teachers focusing on job shadowing, sharing of information on STEM use, group and project teaching. One mobility will be devoted to students who will participate in the international competition.
Main outputs of the project:
Survey of the current state of using STEM teaching in partner schools
Methodological guide for planning and creation of STEM-based teaching lessons
eBook – a portfolio of at least 24 multidisciplinary lessons
Project for students with different types of tasks using problem-based teaching, videos, quizzes, etc.
International student competition for two students from each school. Students will work together in international teams and will create presentations on given topics and solve STEM tests.
Her er en oversikt over avsluttede prosjekter som Byåsen vgs har vært med på.
Project type: KA2 (2015 - 2018)
The general objective of our project "Teaching in the Digital Age" is to increase the quality of VET education by motivating teachers of maths and vocational subjects to use modern methods of teaching with a strong support of digital media, to support continuing professional development and independent learning and to introduce new pedagogical methods essential for teaching in the digital age.
For more information about the schools, agenda, outcomes etc just look at the website for the project.
https://useit2blog.wordpress.com/
Project type: KA2 (2011 - 2013)
USE IT is a project designed at a last year's EU LLP LdV/Grundtvig Contact Seminar on the use of IT in education and training by 7 partner institutions. It deals with the requirements concerning methodology and didactics in 21st century's teaching and training and is based on the observation, that possibilities implied in the use of modern ICT are quite often disregarded in daily educational work.
Teachers and instructors in enterprises on the other hand face a Generation, whose perception is very much influenced by these electronic media.
Therefore the aims of this project have to be: To lead teachers and trainers in all educational contexts to an intensified use of the possibilities offered by the ICT technologies, to motivate them to use the media, and to qualify substantially to reduce or even close the "digital gap" between themselves, the "digital immigrants", and their students, trainees or apprentices, the "digital natives".
This partnership will be supported by a large number of accompanying activities. All staff involved will get a lot
of authentic experiences by working together. And so this project idea symbolizes the European spirit in various ways and exemplifies the value of European cooperation.
Project type: KA1 (2015 - 2017)
Project type: KA1 (2014 - 2017)
Project type: KA2 (2011 - 2013)
Project type: KA2 (2011 - 2013)
Vocational training in Germany and Norway for painters and carpainters - foreign languages in vocational education.
Project type: Scandinavian Business Company (2016 - 2018)
Project type: Fulbright assistent (Løpende / Ongoing)
Project type: Youth for understanding (Løpende / Ongoing)